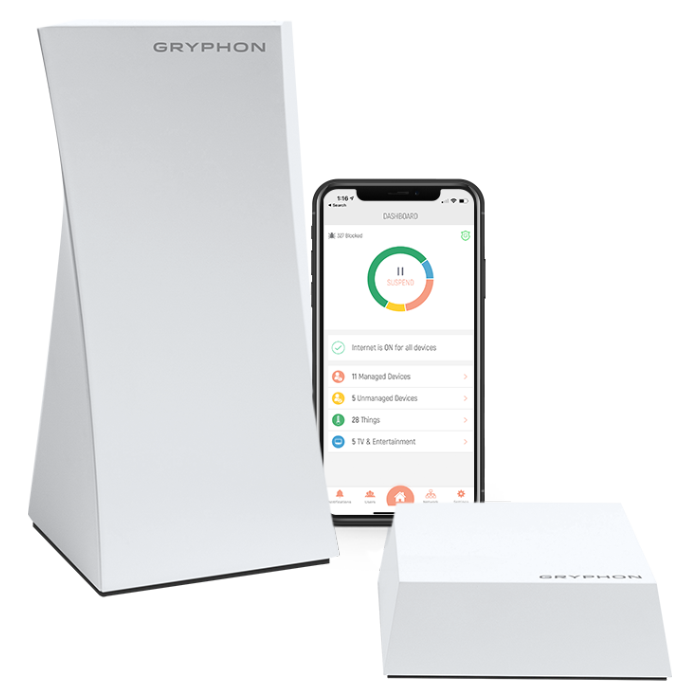 Are you looking for a new router? Are you wondering about better internet security options? Are the needs of your family's device usage increasing or not currently being met? 
If any of those describe where you are currently, take a look at the Gryphon Router to see if it meets your needs.
What is the Gryphon Secure Mesh System Router? A highly innovative system with a focus on parental controls, advanced security features and the ability to control a generous area of your home for an arguably affordable price tag.
What does 'MESH SYSTEM' mean? A mesh router WiFi system consists of a main router that connects directly to your modem, and a series of satellite modules, or nodes, placed around your house for full WiFi coverage. (Source)
Here's what the Gryphon Router System does and does not do for securing your internet access right from the source:
PROS
Lots of good security features – intrusion detection, malware filtering, 24/7 protection (including SmartHome Devices), daily security updates, screen time monitoring, filtering content, personal data/identity theft, 

Easy to setup/control from afar – step by step instructions to set up and controlled by an app allowing access from anywhere, anytime on the 'parent' device

Excellent coverage – 1800 sq ft on one floor

Strong and capable WiFi signal – 2.4 or 5.0 GHz of streaming speed

intelligent intrusion detection safeguards for every actively connected device in the WiFi network

Stream Content and play games on multiple devices without buffering

Come in package deals to ensure coverage of your whole home

MU-MIMO enabled: multi-user, multiple input, multiple output

One year warranty

Hard for teens to get around the security features
CONS
Not great for multiple floors by itself – additional Gryphon devices are needed to extend WiFi coverage to other floors

Some great features are only trials – free 6 month trials, then monthly subscriptions or per year charges after that

Devices not connected to the WiFi network need other security features

Malware and Ransomware Protection only available without advanced security protection in place

Price Tag: $200-$400 depending on sales

Larger than other devices on the market, not wall-mountable
The Gryphon router offers an all-inclusive package in terms of high security and ultimate parental control, and the ability of the device to allow all the family's devices for any need in any corner of the home, may just outweigh the price point of these tall towers. 
https://protectyoungeyes.com/2020-best-wi-fi-routers-including-parental-controls/ 
https://nerdtechy.com/gryphon-guardian-review 
https://www.tomsguide.com/us/gryphon-secure-mesh-router,review-6042.html 
https://www.pcmag.com/reviews/gryphon-smart-wifi-mesh-system 
MORE ROUTER REVIEWS & GUIDELINES:
http://firstnrc.org/?page_id=871 
*Please note, that although we have found valuable information from an external web page for our blog post, we do not endorse all information, religious views and opinions posted on these third-party websites.